Introduction / overview
Coronavirus Disease 2019 (COVID-19) is a pandemic caused by Severe Acute Respiratory Syndrome Coronavirus 2, also called SARS-CoV-2. Despite the widespread awareness regarding COVID-19, many are still unaware how it affects the human body.
The infographic on this page by scientific designer and animator Avesta Rastan, details the effects COVID-19 has on our lungs, from moderate to severe cases.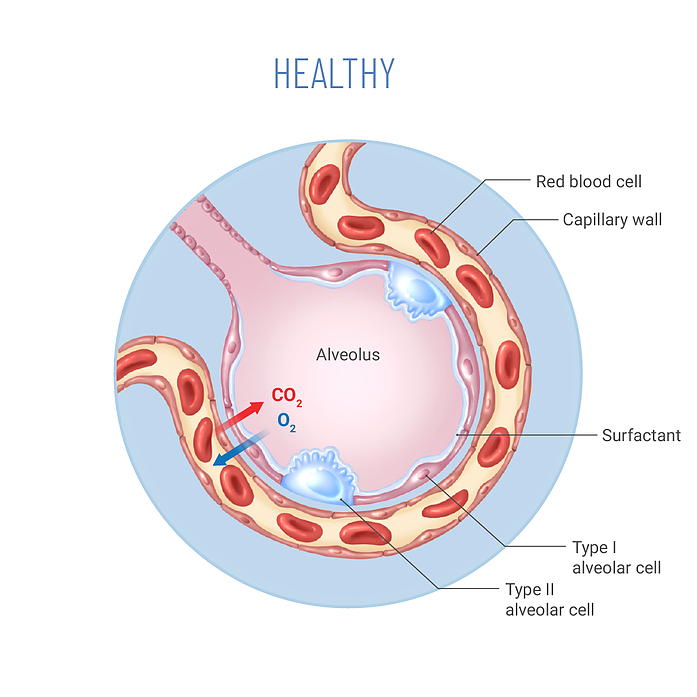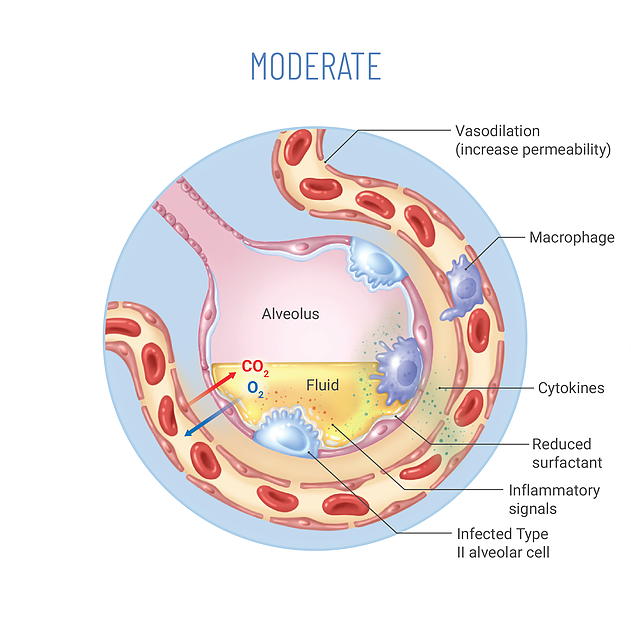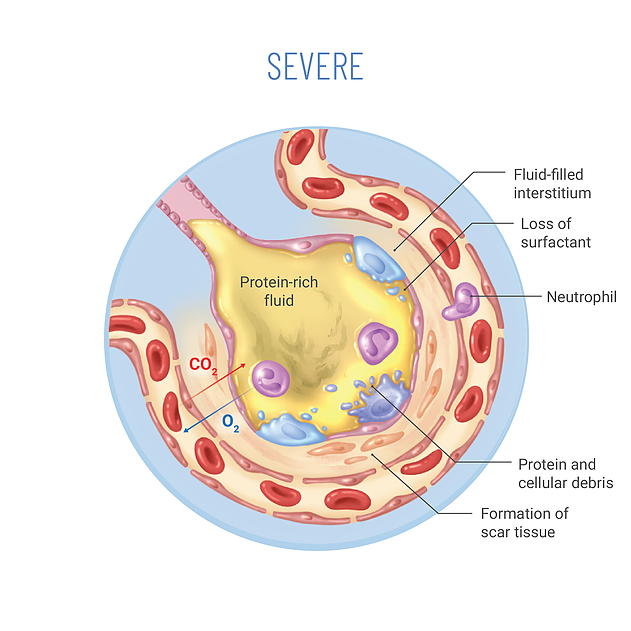 Immune response
After infection, type II cells release inflammatory signals that recruit macrophages (immune cells)
Macrophages release cytokines that cause vasodilation, which allows more immune cells to come to the site of injury and exit the capillaries
Fluid accumulates inside the alveoli
The fluid dilutes the surfactant which triggers the onset of alveolar collapse, decreasing gas exchange and increasing the work of breathing
Neutrophils are recruited to the site of infection and release Reactive Oxygen Species (ROS) to destroy infected cells
Type I and II cells are destroyed, leading to the collapse of the alveoli and causing Acute Respiratory Distress Syndrome (ARDS)
If inflammation becomes severe, the protein-rich fluid can enter the bloodstream and travel elsewhere in the body, causing Systemic Inflammatory Response Syndrome (SIRS)
SIRS may lead to septic shock and multi-organ failure, which can have fatal consequences
Download the infographic …
Download a high Res PDF file in English suitable for printing here. This infographic is available in other languages including French, Spanish, German, Turkish, Romanian, Russian, Arabic, Albanian, Indonesian, Portuguese, Catalan, Ukrainian, Simplified Chinese, Italian, Afrikaans, and more coming soon from here
Sources & links
Belluck, P. (2020). What Does the Coronavirus Do to the Body? Available at: https://www.nytimes.com/article/coronavirus-body-symptoms.html
Belouzard, S., Chu, V. C., and Whittaker, G. R. (2009). Activation of the SARS Coronavirus Spike Protein via Sequential Proteolytic Cleavage at Two Distinct Sites. Proceedings of the National Academy of Sciences, 106(14), pp. 5871–5876. Available at: doi: 10.1073/pnas.0809524106
Gates, B. (2020). Responding to Covid-19 — A Once-in-a-Century Pandemic? New England Journal of Medicine. Available at: doi: 10.1056/nejmp2003762
Lai, C.-C., Liu, Y. H., Wang, C.-Y., Wang, Y.-H., Hsueh, S.-C., Yen, M.-Y., et al. (2020). Asymptomatic Carrier State, Acute Respiratory Disease, and Pneumonia Due to Severe Acute Respiratory Syndrome Coronavirus 2 (SARS-CoV-2): Facts and Myths. Journal of Microbiology, Immunology and Infection. Available at: doi: 10.1016/j.jmii.2020.02.012
Li, X., Geng, M., Peng, Y., Meng, L., and Lu, S. (2020). Molecular Immune Pathogenesis and Diagnosis of COVID-19. Journal of Pharmaceutical Analysis. Available at: doi: 10.1016/j.jpha.2020.03.001
Li, X., Giorgi, E. E., Marichann, M. H., Foley, B., Xiao, C., Kong, X.-P., et al. (2020). Emergence of SARS-CoV-2 through Recombination and Strong Purifying Selection. Available at: doi: 10.1101/2020.03.20.000885
Perlman, S. and Netland, J. (2009). Coronaviruses Post-SARS: Update on Replication and Pathogenesis. Nature Reviews Microbiology, 7(6), pp. 439–450. Available at: doi: 10.1038/nrmicro2147
Wang, D., Hu, B., Hu, C., Zhu, F., Liu, X., Zhang, J., et al. (2020). Clinical Characteristics of 138 Hospitalized Patients With 2019 Novel Coronavirus–Infected Pneumonia in Wuhan, China. JAMA, 323(11), p. 1061. Available at: doi: 10.1001/jama.2020.1585
Yan, R., Zhang, Y., Li, Y., Xia, L., Guo, Y., and Zhou, Q. (2020). Structural Basis for the Recognition of SARS-CoV-2 by Full-Length Human ACE2. Science, 367(6485), pp. 1444–1448. Available at: doi: 10.1126/science.abb2762
Zhao, D., Yao, F., Wang, L., Zheng, L., Gao, Y., Ye, J., et al. (2020). A Comparative Study on the Clinical Features of COVID-19 Pneumonia to Other Pneumonias. Clinical Infectious Diseases. Available at: doi: 10.1093/cid/ciaa247
Coronavirus: epidemiology, pathophysiology, diagnostics. (2020). Available at: https://www.youtube.com/watch?v=PWzbArPgo-o
Symptoms of coronavirus. (2020). Available at: https://www.cdc.gov/coronavirus/2019-ncov/symptoms-testing/symptoms.html
Copyright information
This work is licensed under a Creative Commons Attribution-NonCommercial-NoDerivatives 4.0 International License. You are free to copy and redistribute the material in any medium or format under the following terms:
You must give appropriate credit, provide a link to the license, and indicate if changes were made
You may not use the material for commercial purposes
If you remix, transform, or build upon the material, you may not distribute the modified material
Infographic by AzuraVesta Design