COVID-19 is highly infectious. Infection control and prevention (IPAC) are critical to protect patients and staff. Administrative controls, environmental controls and personal protection are all key elements of a safe environment. All of these controls rely on vigilance for suspected cases and safe screening, testing and isolating confirmed cases.
Screening, triage & testing, isolation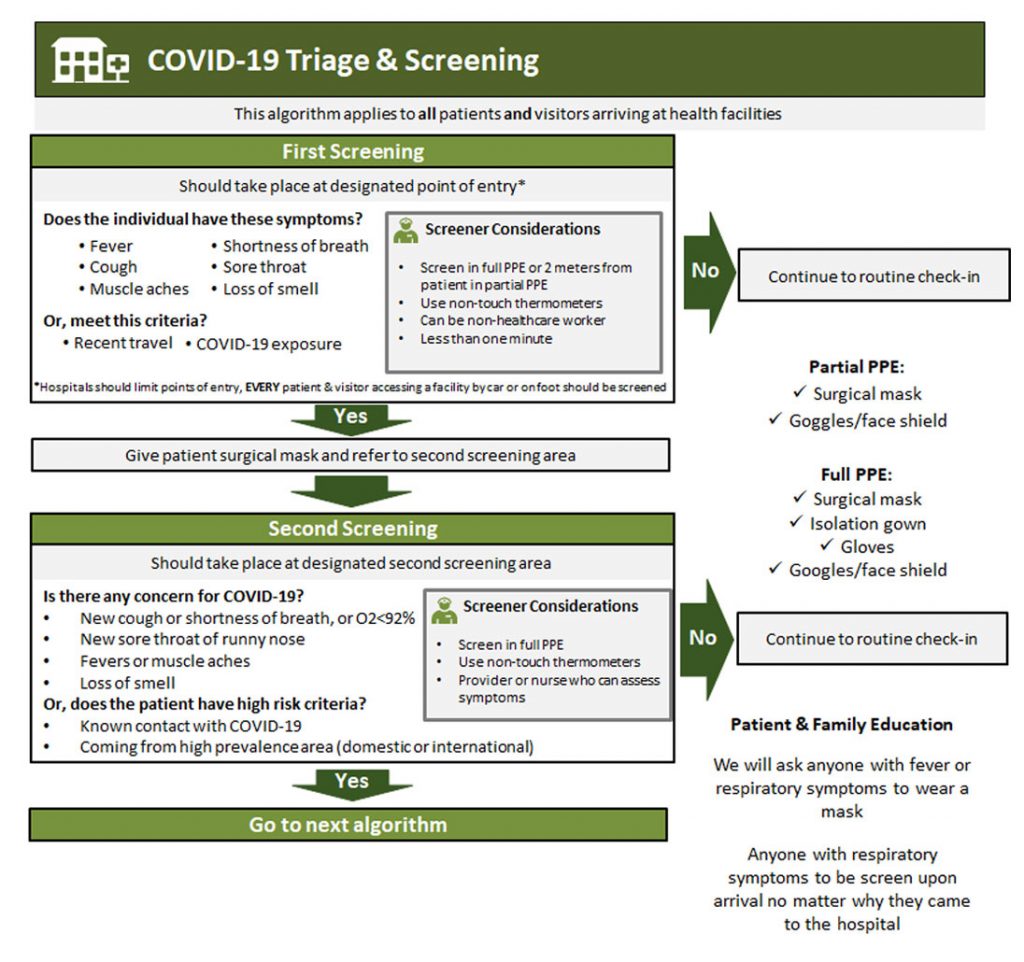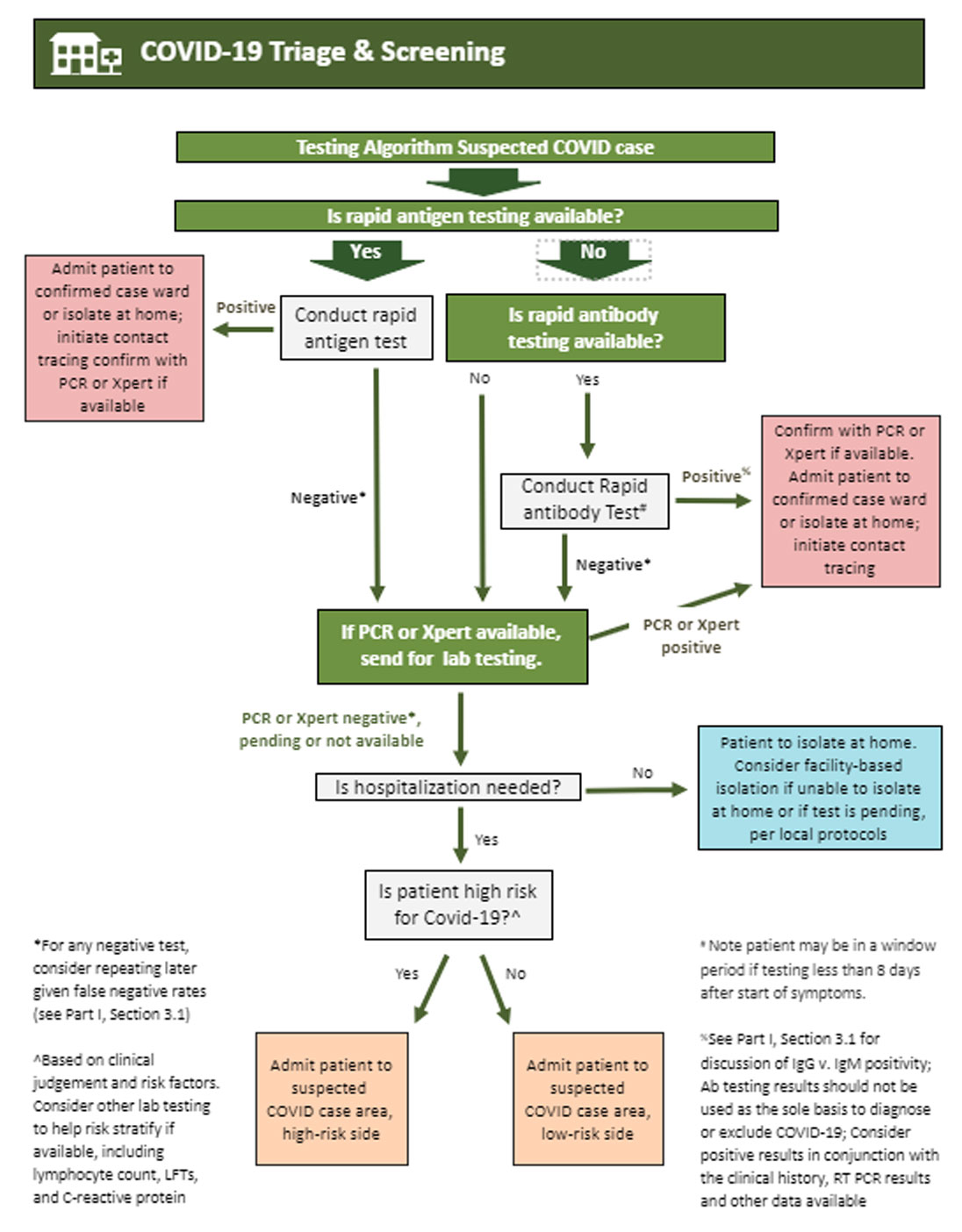 A. Initial screening
Separate screening area outside of health care facility or at hospital entrance
All patients entering healthcare facility are screened for fever, cough, SOB, known contact of COVID-19 patient, or recent travel that may place them at risk. Screener should wear full PPE
If initial screen positive:

Immediately place face mask on patient and provide patient with alcohol based hand sanitizer
Direct patient to triage & testing area
B. Triage & testing
Secondary screening space should be separated from other patients
Providers should don full PPE and observe contact and droplet precautions
Follow protocols for specimen collection for laboratory testing
Asymptomatic patients may be directed home with follow up and to self- quarantine pending test results
Symptomatic patients will be admitted to isolation area per protocol
C. Probable or suspected cases of COVID-19:
There should be separate isolation areas for probable or suspected cases who have not been confirmed to have COVID-19.
When a patient comes to a facility with symptoms consistent with COVID-19 or known contact with COVID-19, it is important that IPAC is adhered to. There are three levels of isolation:

Asymptomatic: Known contact, but not displaying symptoms. Once tested asymptomatic patients may return home with close follow up and instructions to self-quarantine pending test results

Symptomatic: Should be evaluated clinically for admission and separated from asymptomatic suspects pending the test result

Presumptive case areas for asymptomatic or symptomatic suspected cases should be separated into low and high risk sides depending on clinical suspicion
D. Isolation for confirmed positive patients OR highly symptomatic probable cases
(Especially with a close family contact with a symptomatic or confirmed case): Should be separated from suspected cases and moved immediately to the isolation unit.

E. General practices and procedures
Providers should complete their patient assessments moving from asymptomatic to symptomatic patients and finally to confirmed patients
Limit transport and movement of patients. When transport is necessary don clean PPE, place face mask on patient, and follow respiratory/hygiene etiquette
The isolation areas must be separate enclosed spaces removed from other patients
Equipment (stethoscope, BP cuff, pulse oximeter) must remain in the room and must be cleaned and disinfected between each patient (e.g., by using ethyl alcohol 70%)
No visitors for suspected or confirmed patients (see exceptions below) as a strategy to help conserve PPE. All parents must wear PPE and can remain with a child as a caregiver
Once patient is in the isolation area they cannot leave except to a dedicated bathroom for isolated patients, movement within the hospital per healthcare provider, or discharge
Maintain a record of all persons entering a patient's room or isolation space, including all staff and visitors
What should I do if I suspect a patient may have COVID-19?
How to identify potential new cases of COVID-19 and either isolate patients to reduce transmission, or refer safely to the hospital if severely unwell.
Infographic
This graphic is based on guidance from Public Health England and Health Protection Scotland to prepare primary care practices in the UK. It has been updated to reflect new UK government advice to the public announced on 16 March 2020